Telling you in a few lines what I do is not easy, but I will try!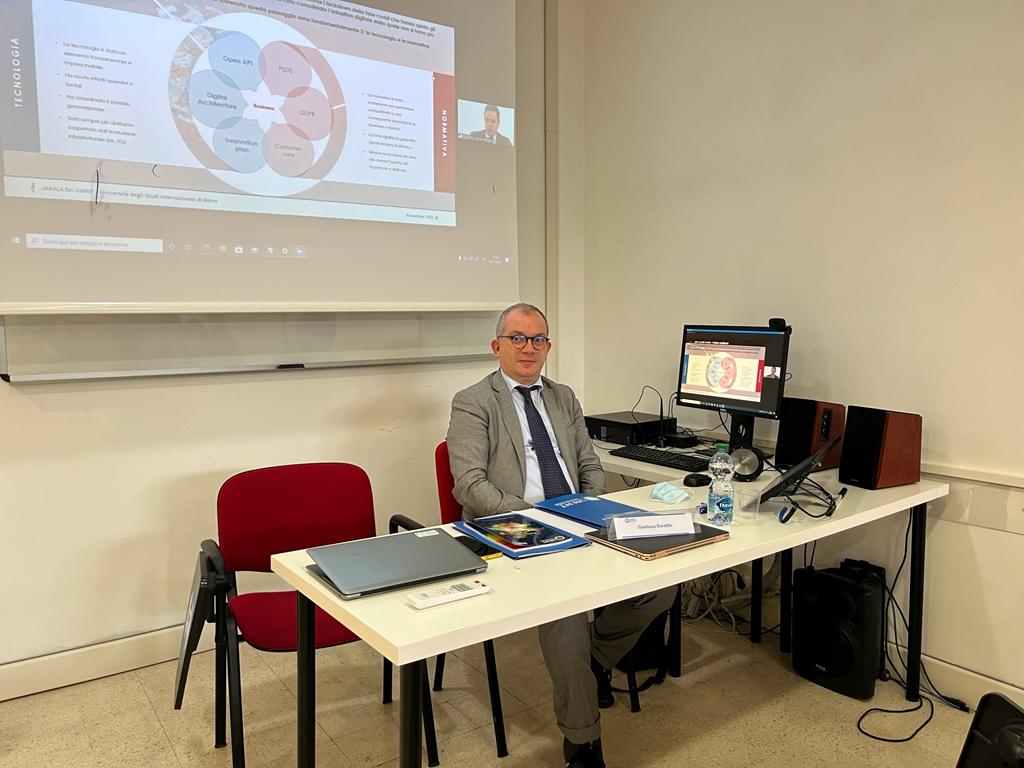 Consulting & Advisoring
I have been and still am a Consultant for large Italian companies (private and public), the job I love and have been doing for over 25 years specialising in business strategy and digital transformation.
I have had several increasingly important assignments in my career and this has allowed me to get to know many different people and companies over the past 25 years, and this is the thing I like most about my job, being able to offer each of them my expertise and grow with them even after many years of working together.
Specialised training
For companies and professional association, I teach specialised courses tailored to their needs on the subjects I cover: SAP, blockchain, digital payments, fintech and digital transformation.
University teaching
Since the academic year 2020-2021, I have held the professorchip "Electronic payments, cryptocurrencies and blockchain" at the International University of Rome, UNINT.
Since the academic year 2019-2020, I have been teaching like "academic fellow" of the area "Enterprise Information Systems" for the course section on SAP ERP and Salesforce at l'Università Internazionale degli Studi di Roma, UNINT.
Since the academic year 2018-2019 , i have been teaching like "academic fellow" of the course "Software Analysis and Design" for the course section on Computer techniques for data management at facoltà di Economia e Giurisprudenza dell'università LUMSA – Libera Università Maria Ss. Assunta di Roma.
At Lumsa University I have the pleasure of working together with Prof. Ing Alessandro Musumeci, a friend and mentor from the university.
Mentoring
I like being in contact with young people (and on this special relationship with the new generation, to whom I want to give part of what I have been lucky enough to have in my career, I have focused the long collaboration I have with the UNINT, Università degli Studi Internazionali di Roma and for which I have considerable success with my students).
I often try to guide young people both in their choice of future job and in the creation and start-up of start-ups, and when I assign theses, I always prefer to combine study with practice with companies to allow young people to enter the world of work immediately and well.
In brief about me
I believe in truth and justice, even if many events in life have tried to change my mind, I feel that Mother Teresa of Calcutta said: "It doesn't matter how much you give, but how much love you put into giving".
I will briefly present my work experience but refer you to my linkedin page for updates on my career.
https://it.linkedin.com/in/gianlucaduretto

Career a short summary !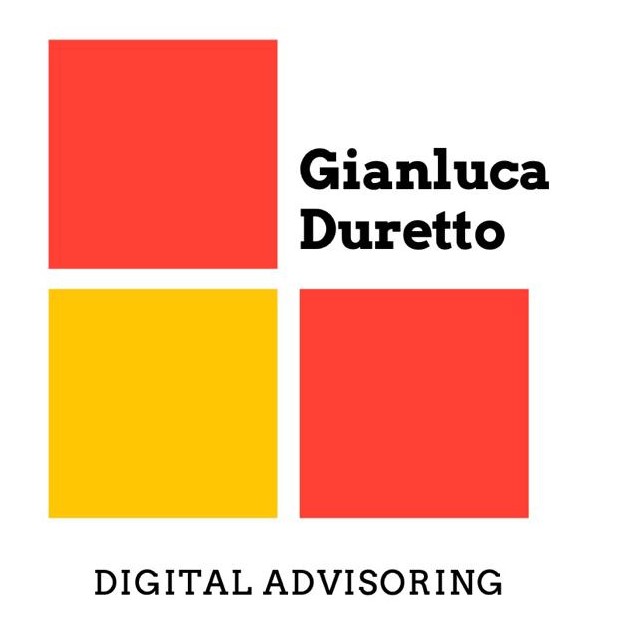 In summary, I have worked for these important national and multinational public and private companies:

✔ Aequaroma Spa – ROMA CAPITALE (2020) like Member of the board and Ceo nominee of the board;
✔ ERNEST & YOUNG Financial Business Advisors Spa (2019) as Senior Advisor Blockchain e SAP;
✔ ITSTeam LTD London as partner and CoS – Chief of Strategy from 2020;
✔ I'm Business Strategy Advisor for several Italian companies since 2019;
✔ 3net Group (2015 – 2019) as General Manager e Head of Sales Strategy and Alliance – Rome, Milan, Turin;
✔ Try Be Group Spa (dal 2007 al 2013) as Sales Director ed Area Manager – Roma, Milano, Napoli, Trani;
✔ ICM Italia Spa (2003 – 2007) as Key Account Manager – Rome;
✔ Siemens Informatica Spa (dal 1999 al 2004) as SAP Consultant – Local Utilities Division.
***
what they say about me
what do my customers, colleagues and partner companies say about me? here are some references from my linkedin profile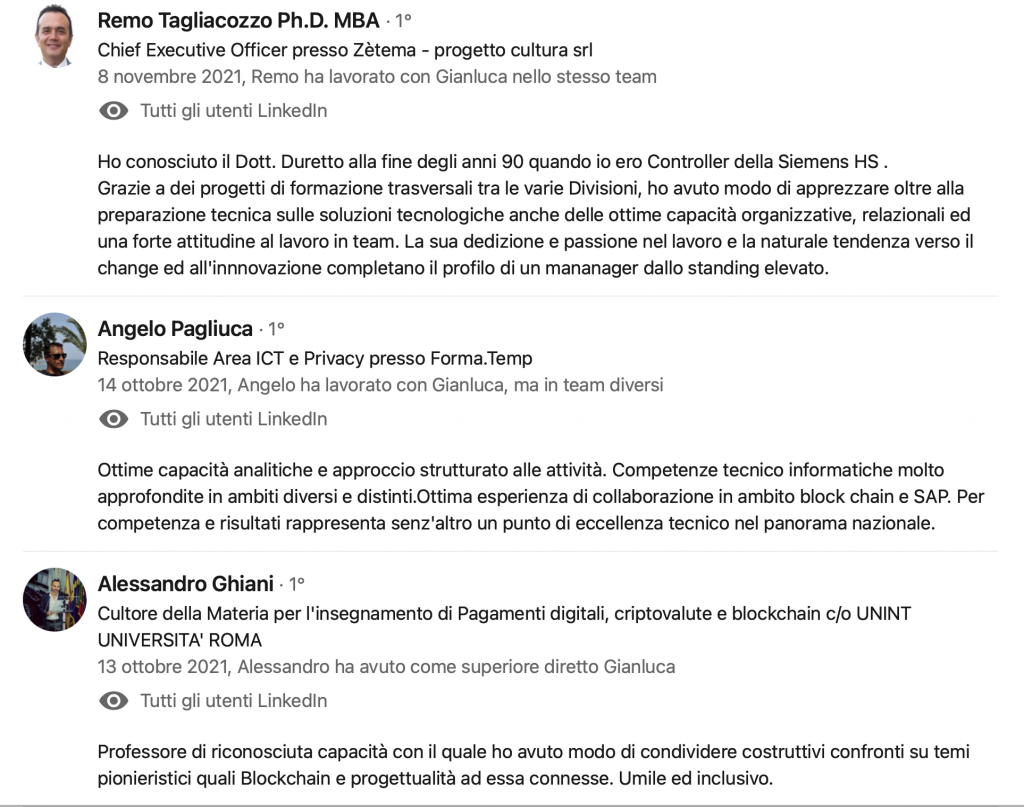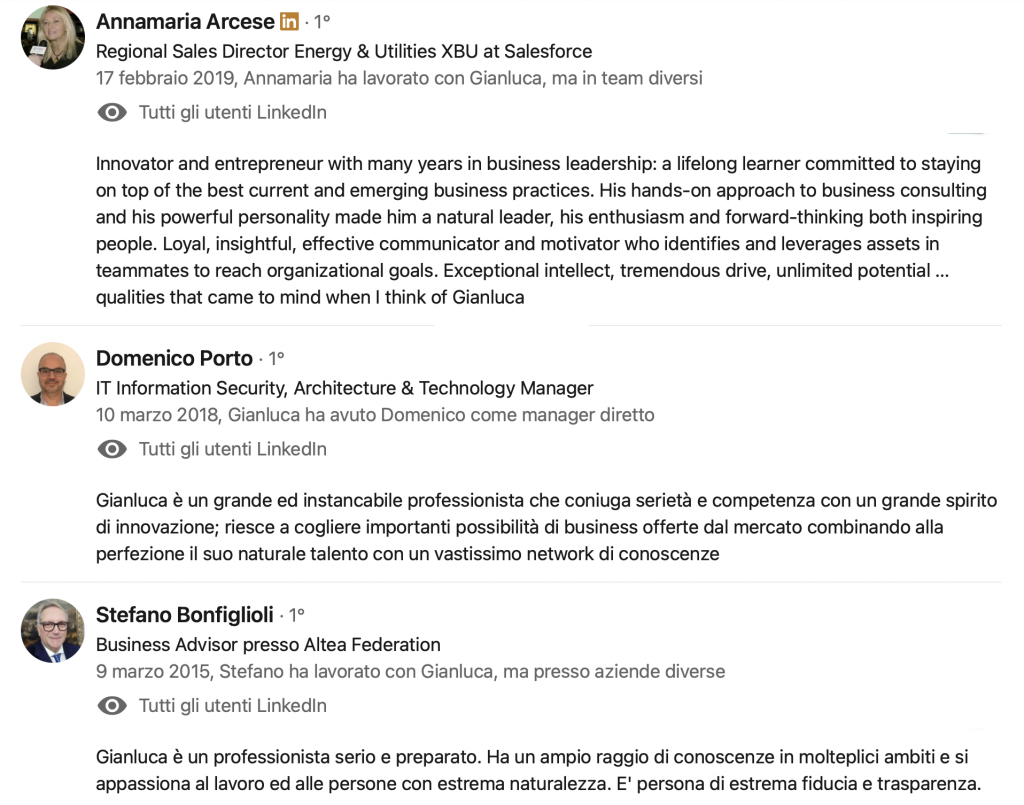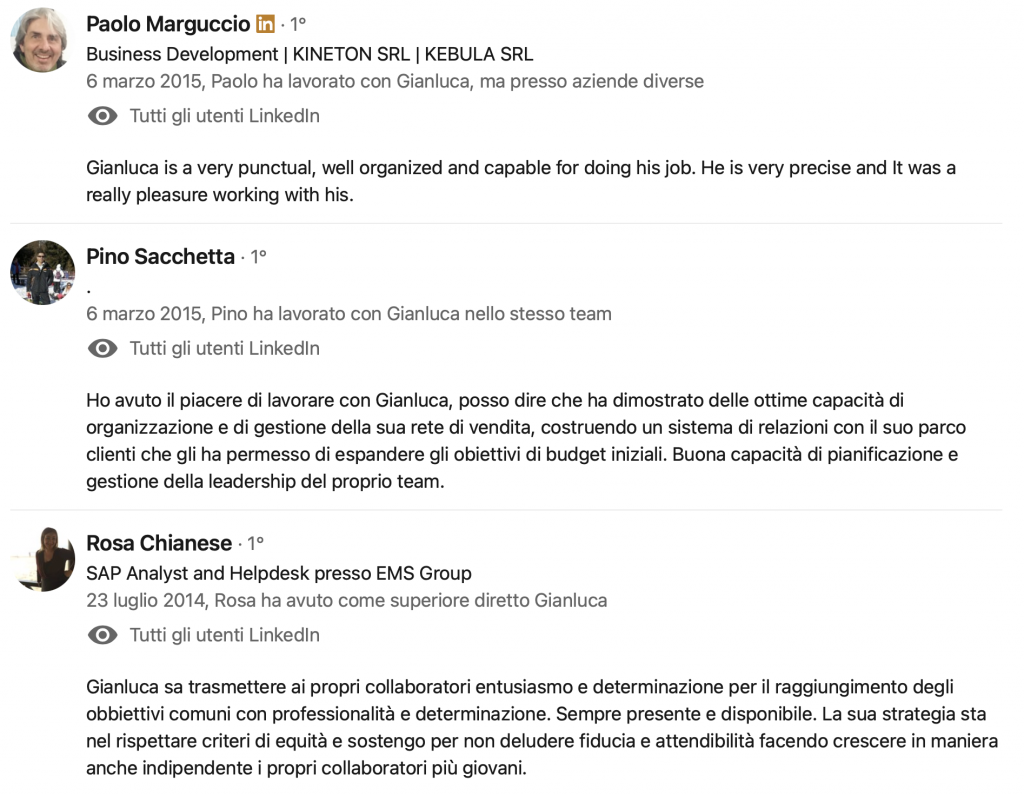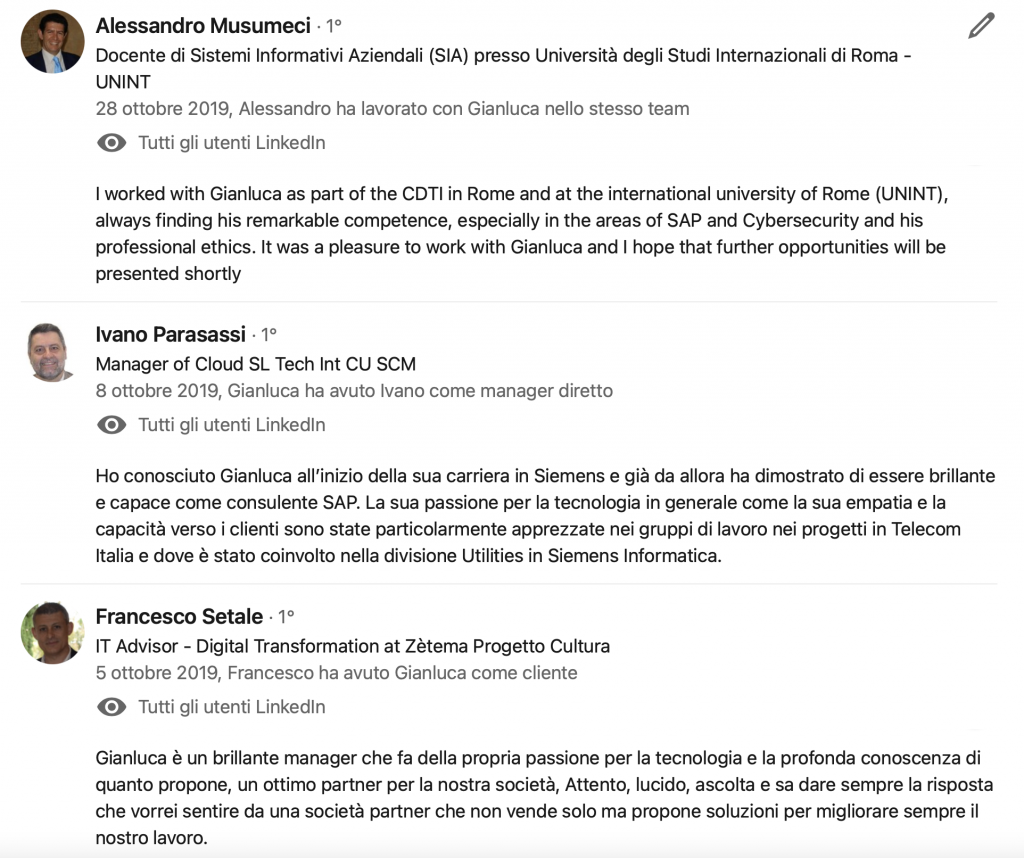 and the students, what do they say about me?